The first day of school will be Tuesday, August 1, 2023. Open House is scheduled for Friday, July 28, 2023. This will provide an opportunity for you to meet your child's teacher and visit their classroom. Please view the attachment for additional information.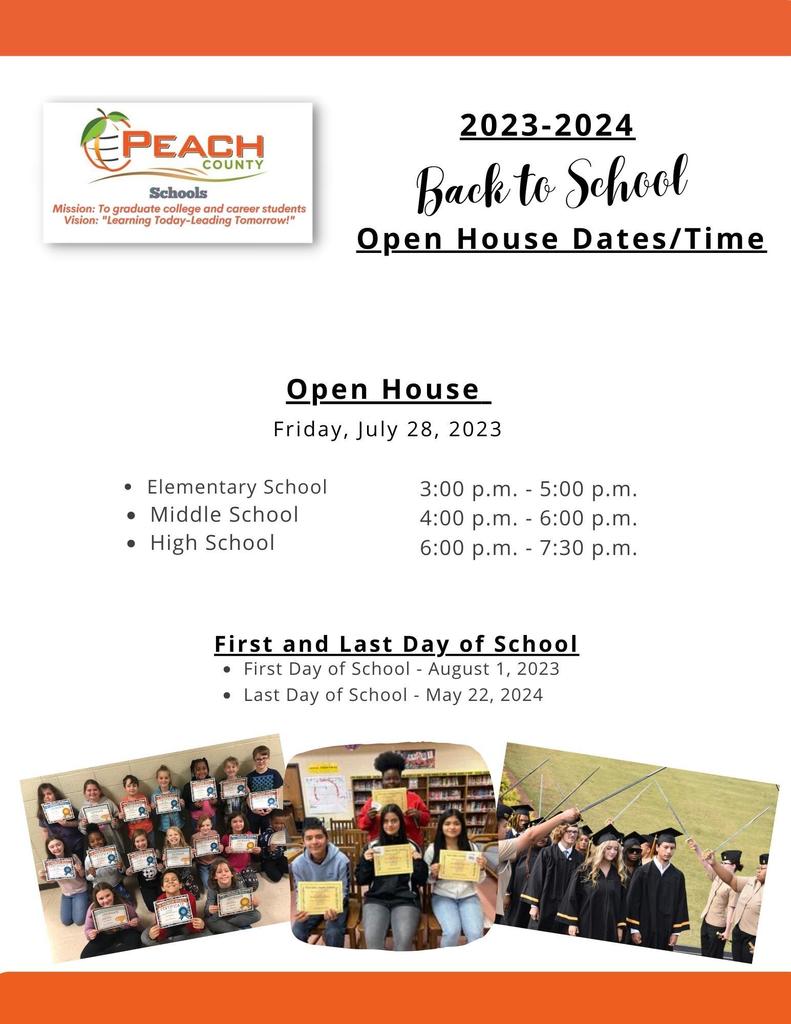 2023-24 New Student Registration Parents/Guardians: The Peach County Board of Education is open Monday - Thursday from 7:30 AM to 5:00 PM during the summer, accepting registrations for new and upcoming students. Parents will not be permitted to enroll their students at the schools for the upcoming school year. Failure to complete the enrollment process before the start of school will result in students not being initially scheduled for classes. If you have a new student who will be enrolling, please take advantage of this opportunity. Please do not wait until a week before school starts to enroll your child(ren). This process is not required for students who were enrolled in the district at the end of the 2022-2023 school year. Applications must be completed online at
https://peach.school/registration
. Parents are encouraged to complete the online application before coming to the board office to submit their required documents; however, computers will be available at the district office for parents who need assistance. Appointments to submit documents are highly encouraged:
https://peach.school/appointments
All documents required for enrollment must be submitted in person during the registration process. A list of required documents can be found here:
http://peach.school/enrollment
If you have any questions or concerns, please contact Mrs. Sandy Pitts at 478-825-5933.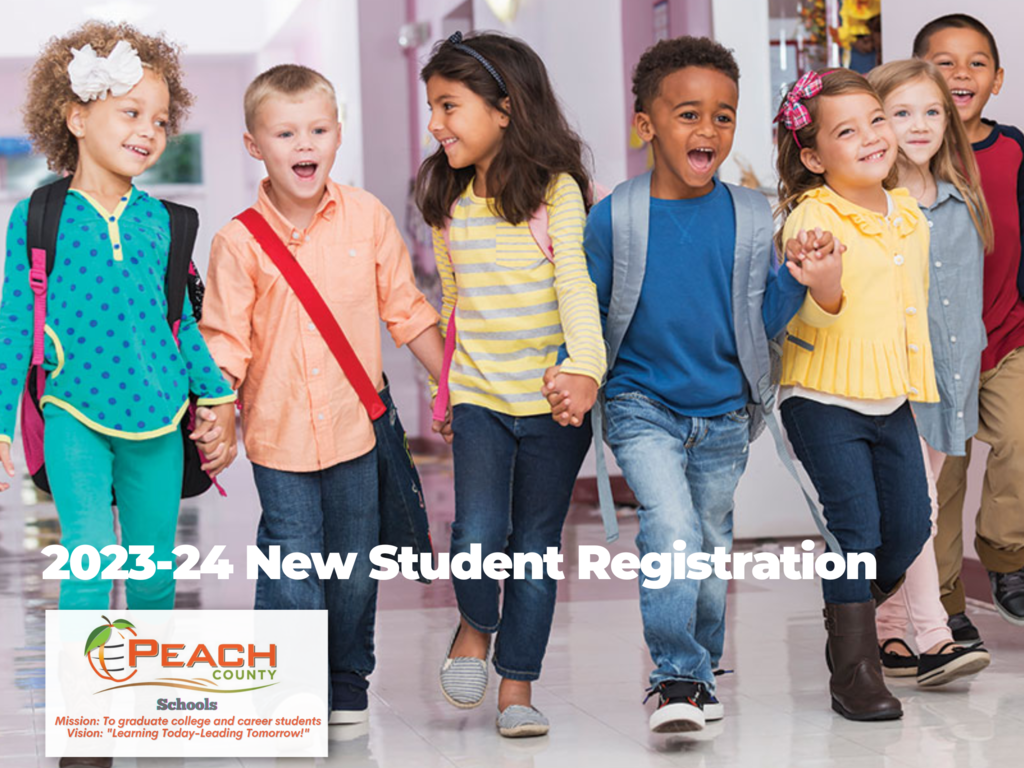 Now Hiring School Bus Drivers #PeachIsASweetPlaceToBe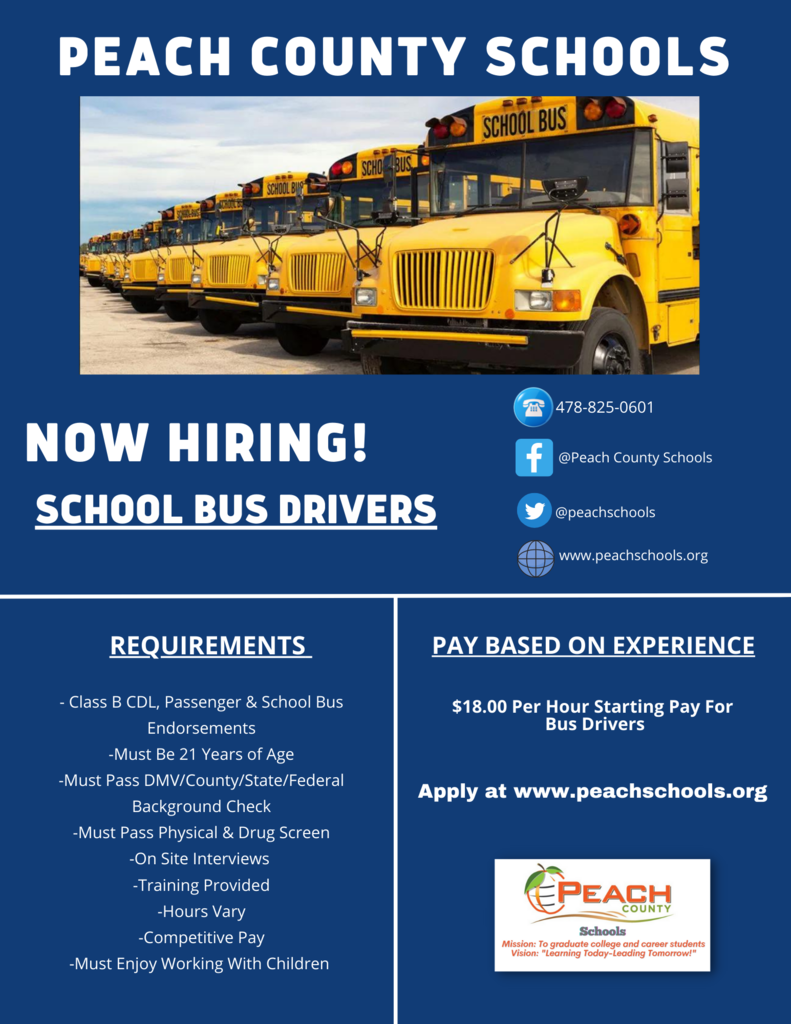 Peach County Board of Education FY24 Budget: Opportunities for Public Input

Peach County School Nutrition "Summer Meals Feeding Sites" Meals will be provided through June 29, 2023, and will be available to children 18 and under.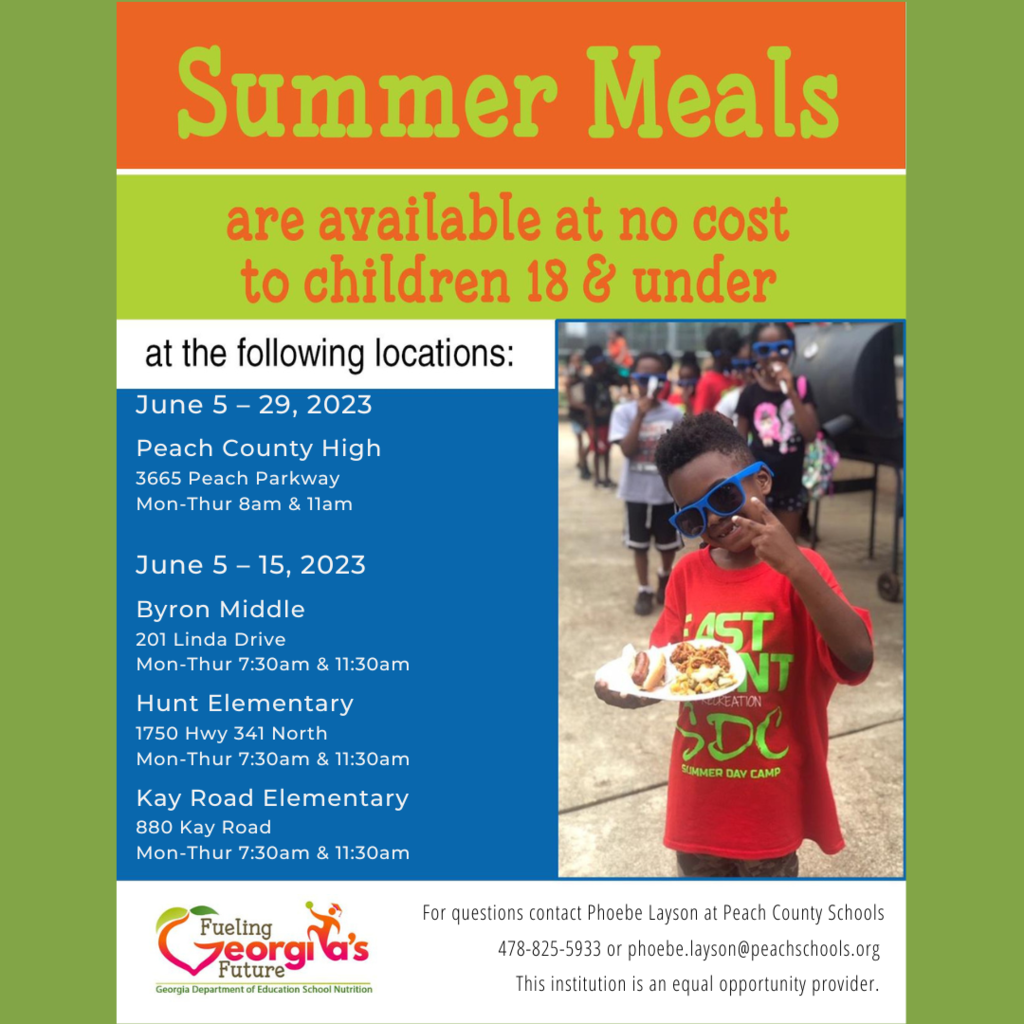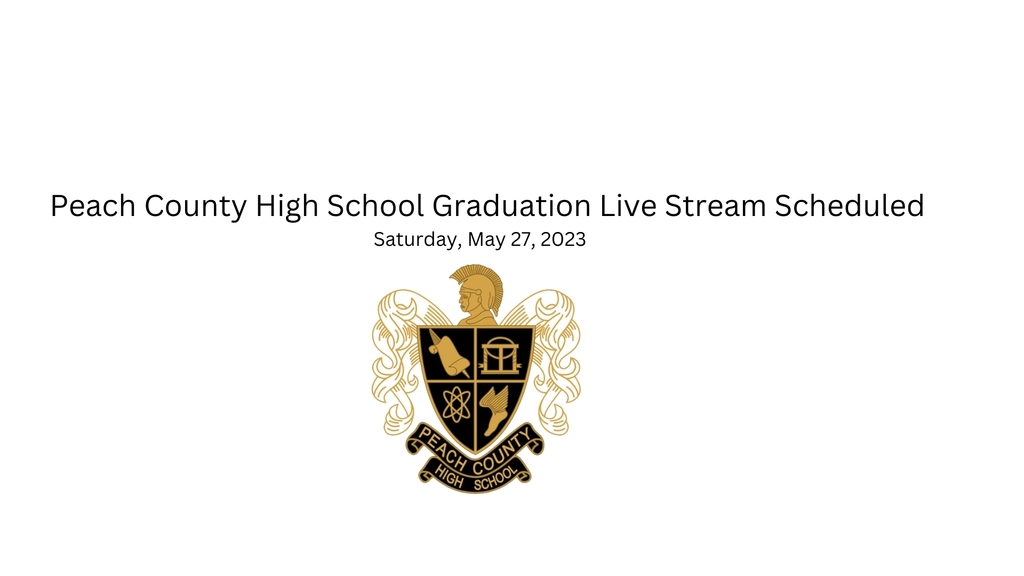 "Honoring All Who Served" Peach County School District will be closed Monday, May 29, 2023, in observance of Memorial Day.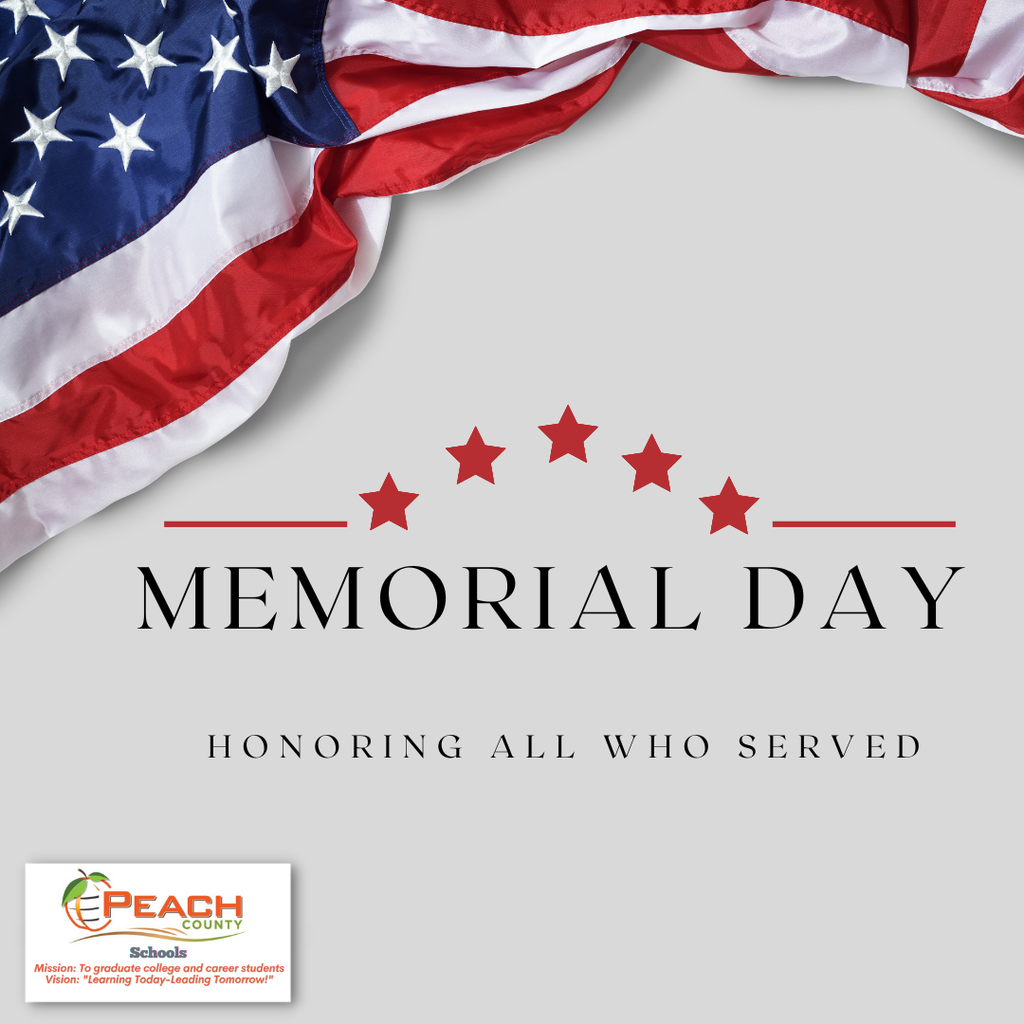 Last Day of School Wednesday, May 24, 2023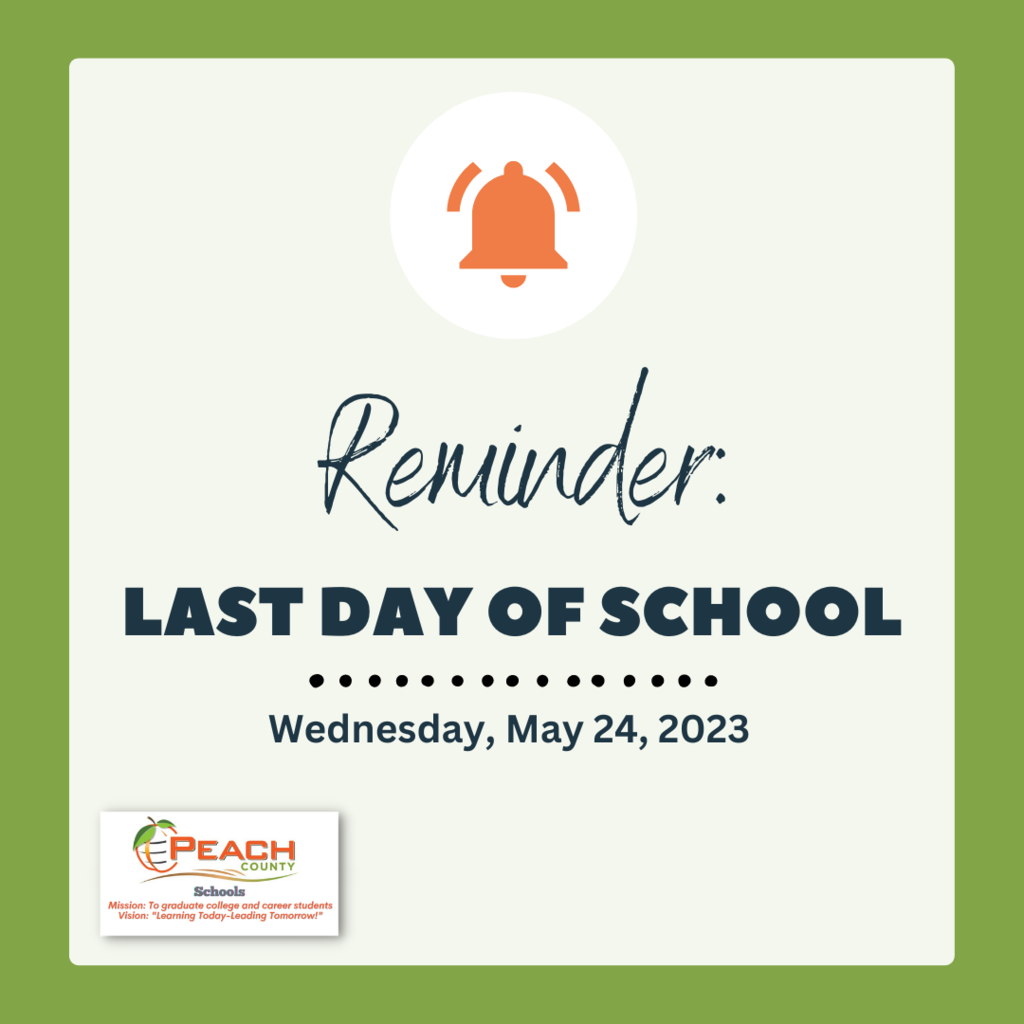 You are invited to attend the Fort Valley Middle School Greenhouse Ribbon Cutting Ceremony. Thursday, May 25th at 9:30 a.m.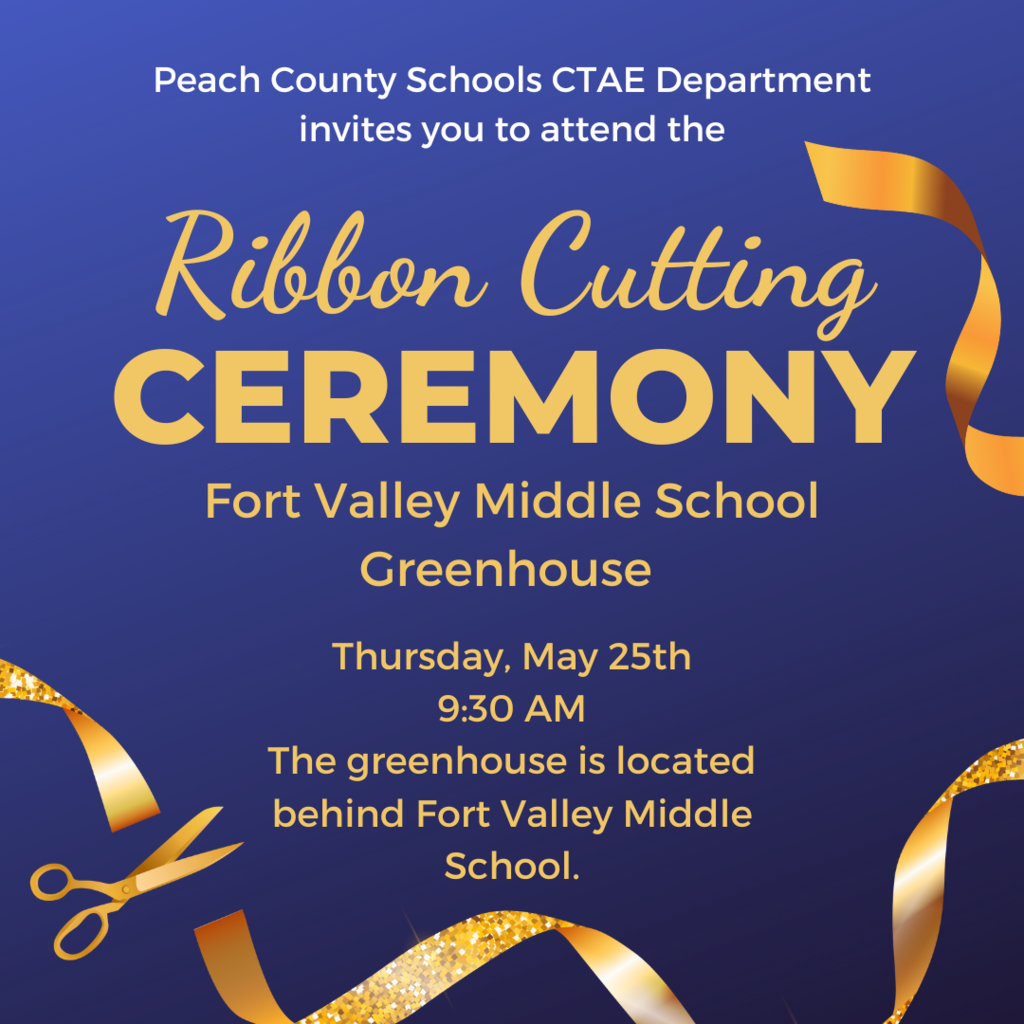 IDEA Proportionate Share Meeting When: Tuesday, May 19, 2023, at 9:00 A.M. Where: Peach County Board of Education ( Student Services Conference Room)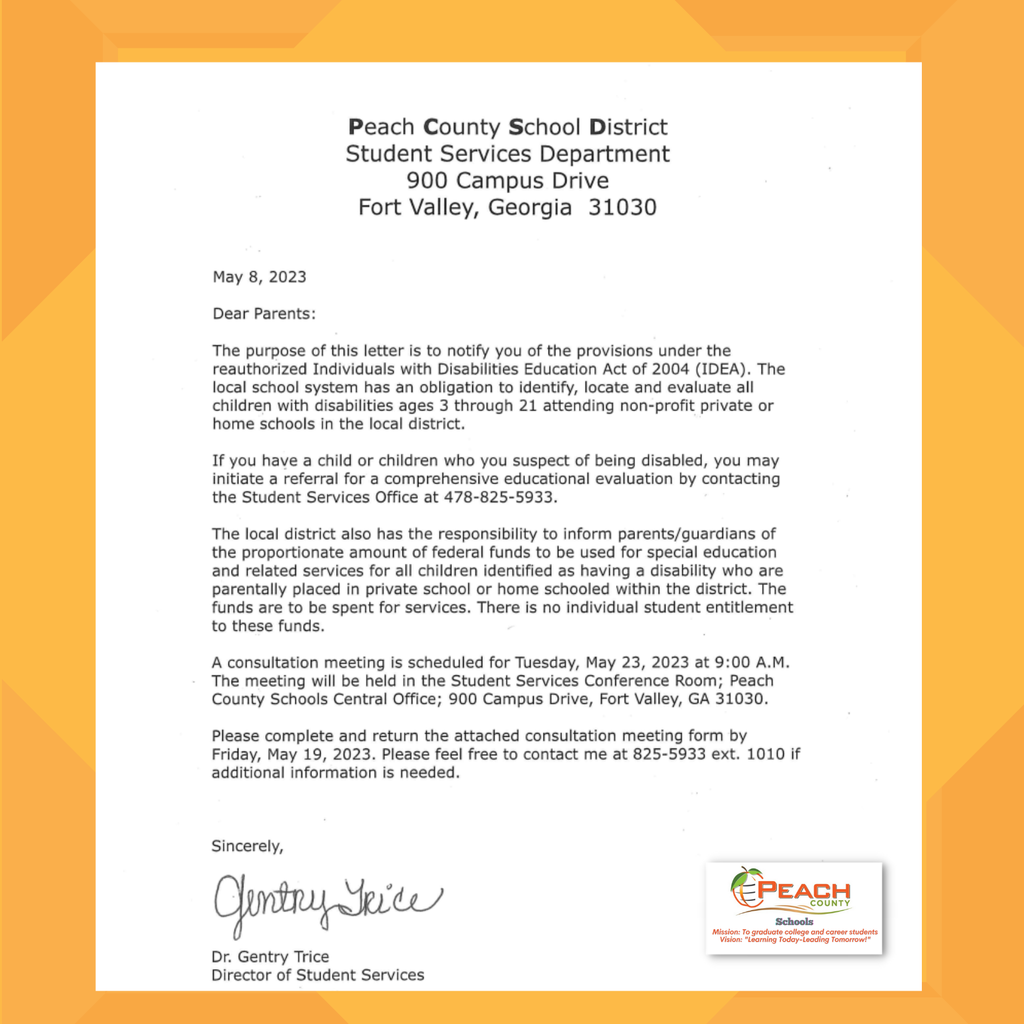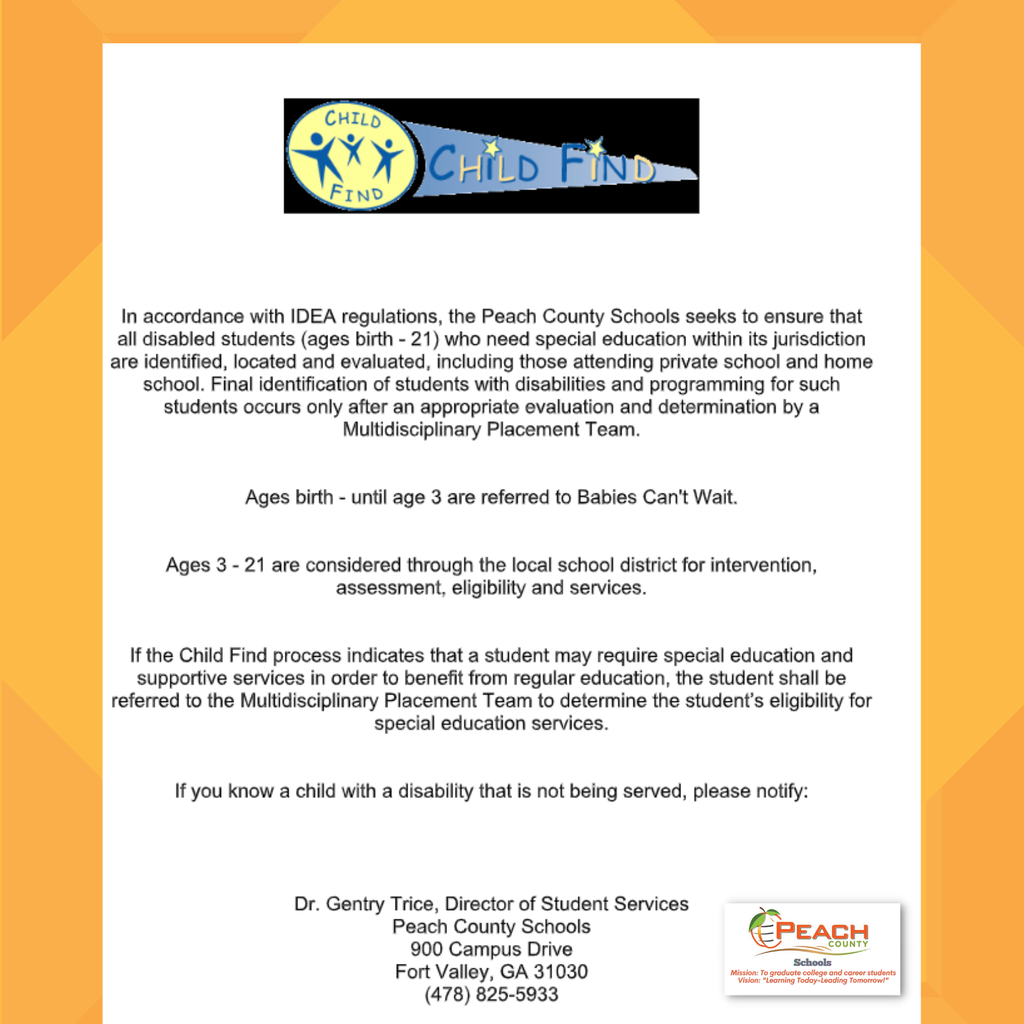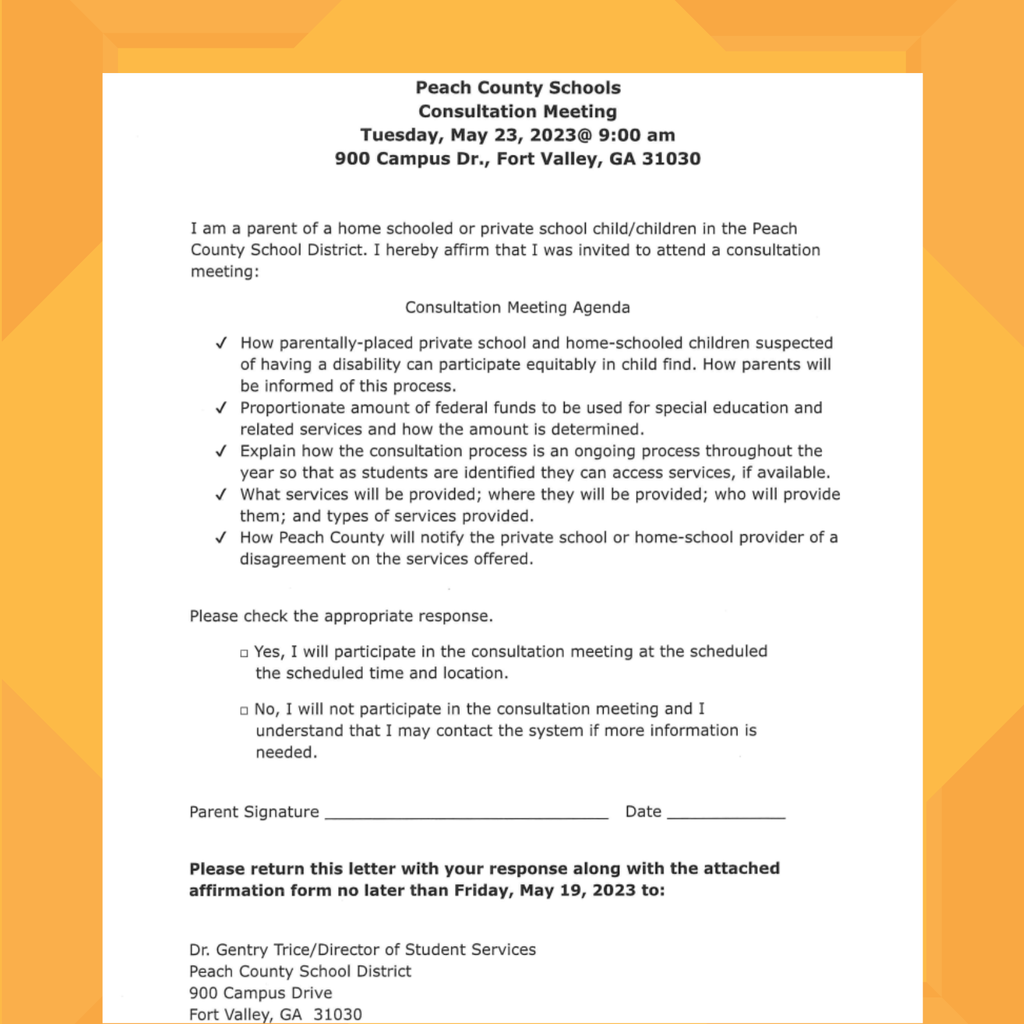 Kay Road Elementary School's Gifted Program Presents " The Lion King"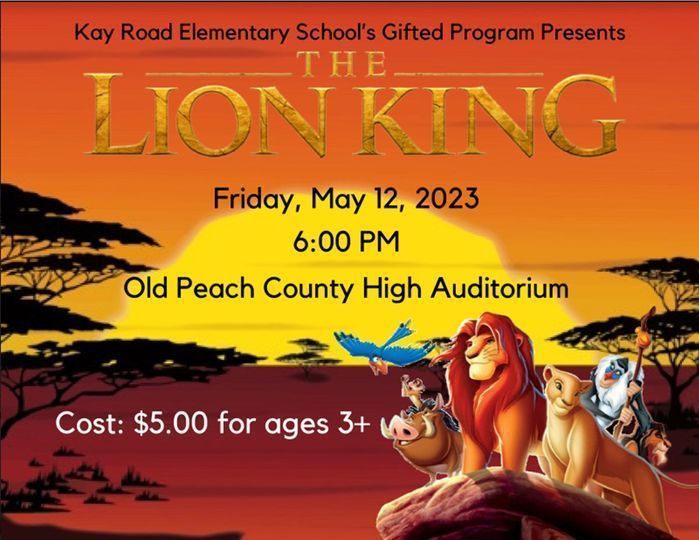 Save the Date! Peach County Schools Middle School Summer Elevation Camp is open to all current 6th-8th grade students from Byron Middle School and Fort Valley Middle School. Students can attend Block 1, Block 2, or both with three classes taught daily. Topic include: environmental engineering, robotics, drones, hands-on health care, drama, music, and more! Applications will be sent home soon to include all courses. We will accept the first 180 students who apply. Students will have the opportunity to rank courses according to their interest at that time.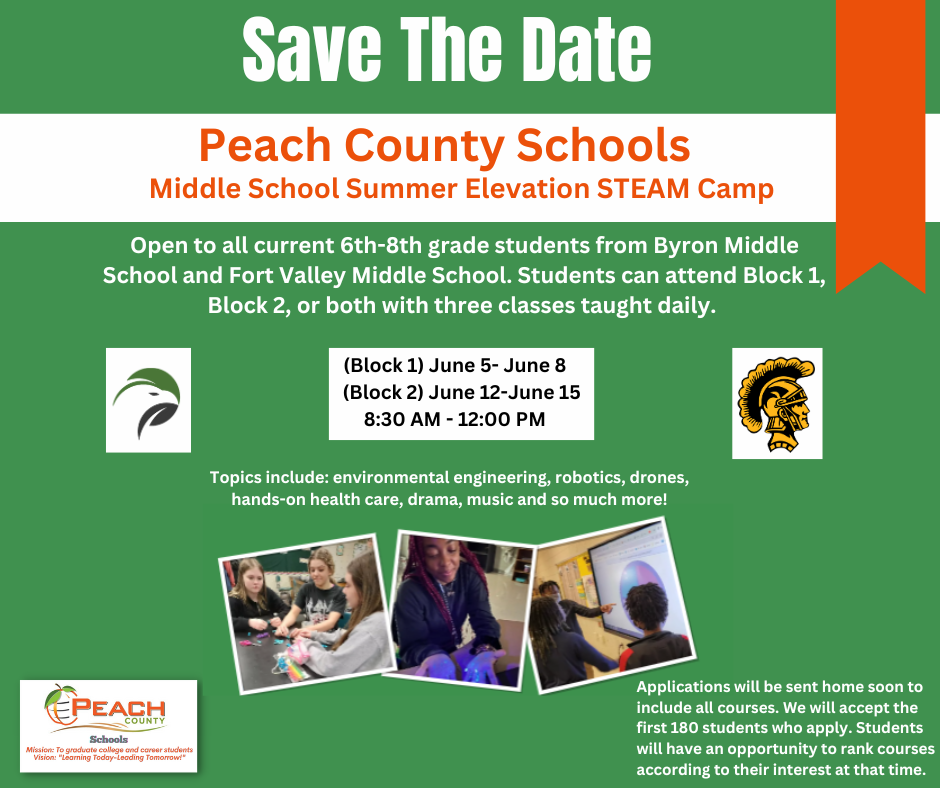 Join the Fort Valley Youth Center of Excellence, Inc. for a ribbon cutting, and help us celebrate their grand re-opening of the beloved youth and community center in the heart of Fort Valley!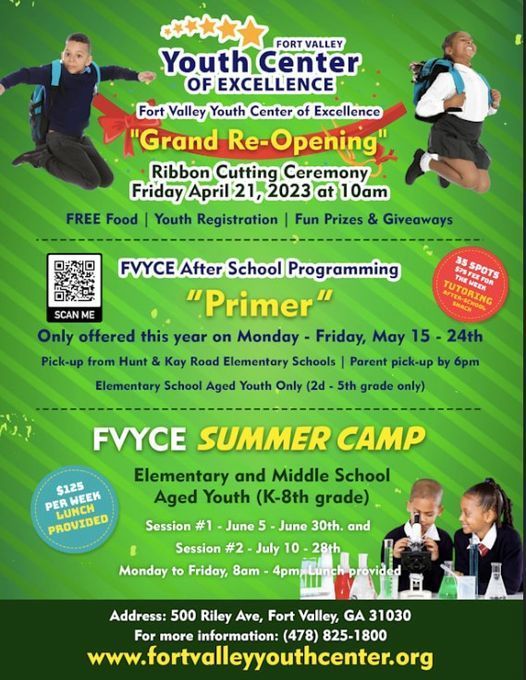 The Fort Valley Police Department would like to introduce to you the Adventurers Camp. If your child is between the ages of 13-17 and interested in the field of Criminal Justice feel free to enroll them in our week long summer camp. By attending our summer camp your young adult will also have the opportunity for employment with the police department once they turn 18. The deadline for registration will be June 15. We are only accepting 30 people, so get your applications in fast.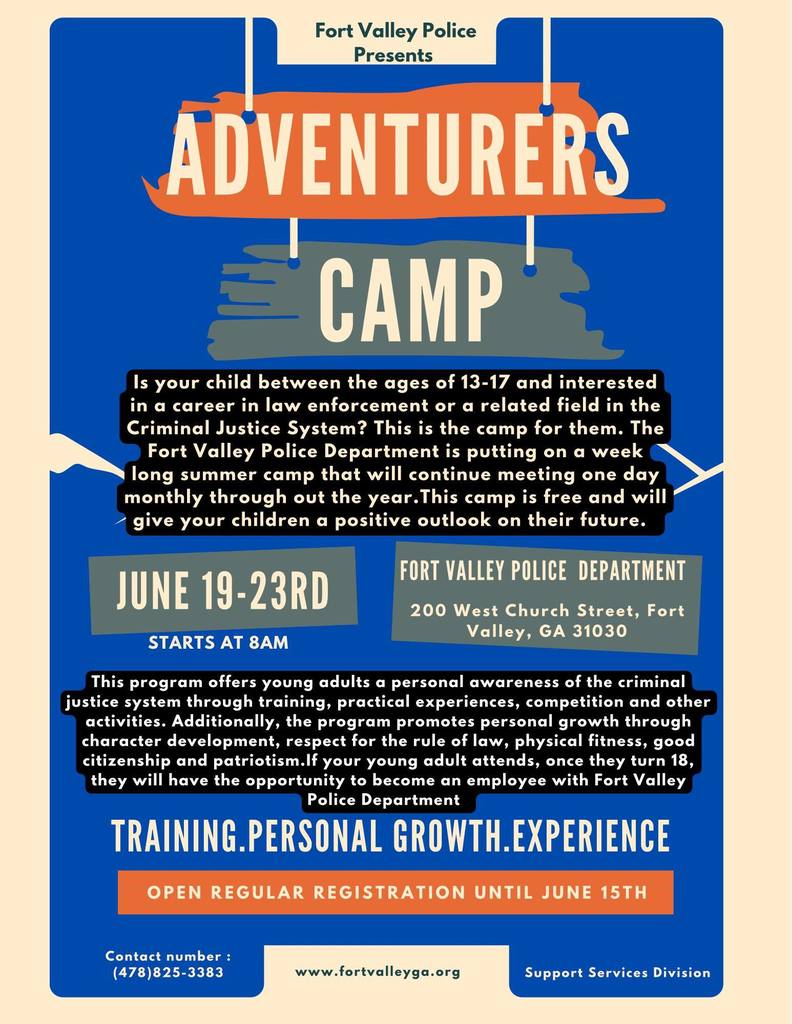 Do you want to have the time of your life? Are you looking out for a place to go? The Peach County High School Theatre Department is proud to present Mamma Mia! this Thursday, Friday, and Saturday at 7:30pm at the new Peach County High School. Tickets can be purchased for $8 in advance and $10 at the door. Want to pay online? Tickets are available at peachchs.booktix.com. Concessions are available for purchase as well.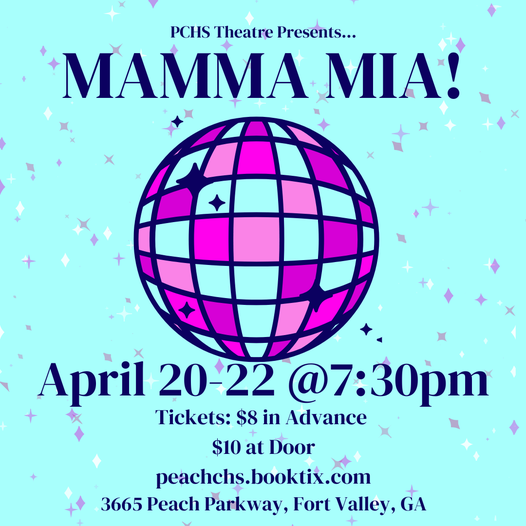 Households with students in Peach County Schools are eligible to enroll in the Affordable Connectivity Program (ACP) which may help pay for internet service or an internet-connected device. The Georgia Department of Education (GaDOE) launched the Georgia Student Connect program to help families get enrolled and apply to receive one of the following: -Up to a $30/month discount on your internet service A one-time discount of up to $100 for a laptop, tablet, or desktop computer (with a co-payment of more than $10 but less than $50) Peach County student households can enroll at AffordableConnectivity.gov and will need to provide a copy of the Community Eligibility Provision (CEP) enrollment letter which will be sent home with your child this week. The Georgia Student Connect program is providing enrollment support through the Student Connect call center. Reach out to the call center at 470-500-1903 or visit the Georgia Student Connect website at
https://gastudentconnect.org/
for help with enrollment. For further information about the ACP, you can call the FCC hotline at: 877-384-2575 or visit the FCC ACP webpage at
https://fcc.gov/acp/
.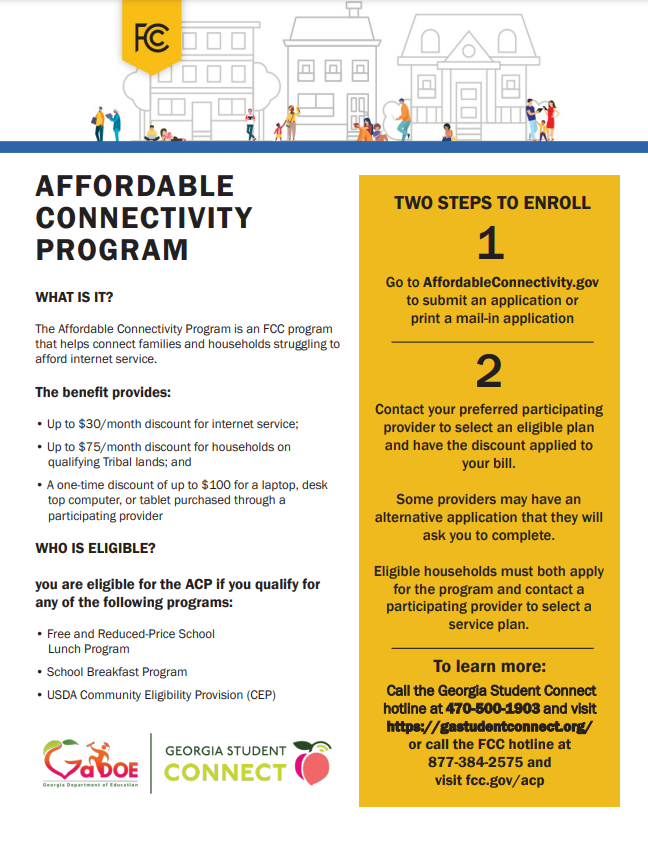 There is now a mobile app for Peach County Schools! You may download the mobile app from the IOS App Store or Android Play Store. Please download the mobile app and enable notifications. It's everything Peach County Schools, in your pocket!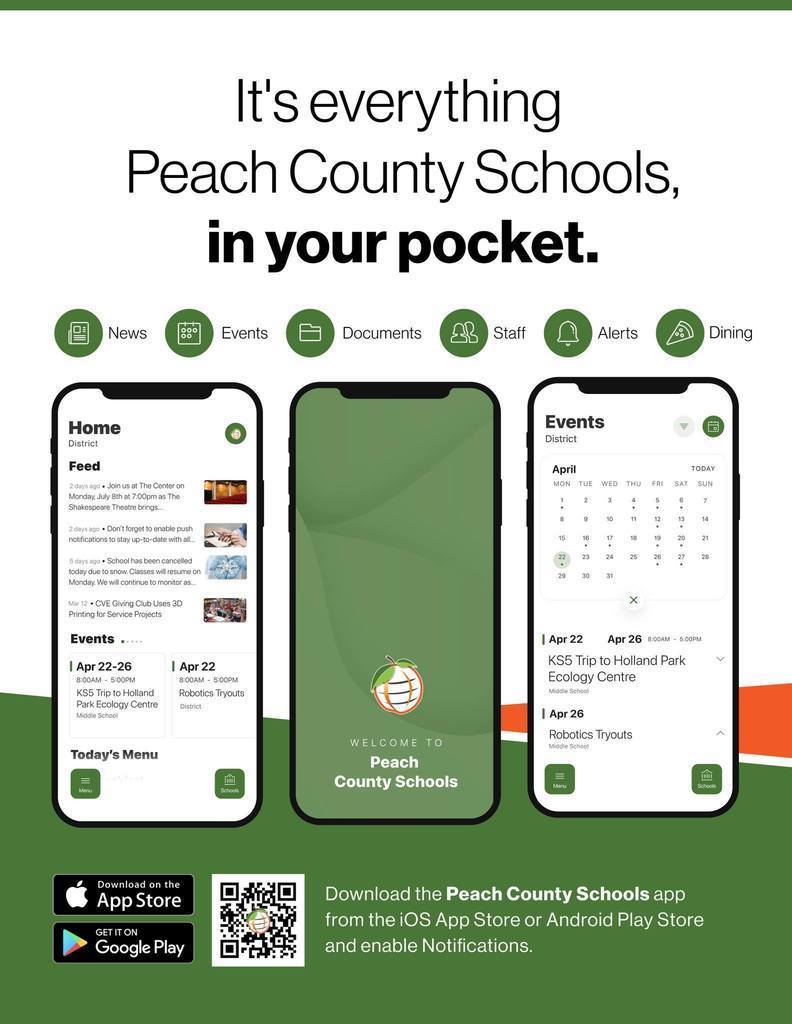 Congratulations to Byron Elementary School student, Ava Kiker. She will be appearing in an upcoming production of Disney's 101 Dalmatians at the Macon Little Theatre on April 14-16, 2023. The production features performers from ages 5 to 19 who represent 17 different schools from 4 counties in Central Georgia.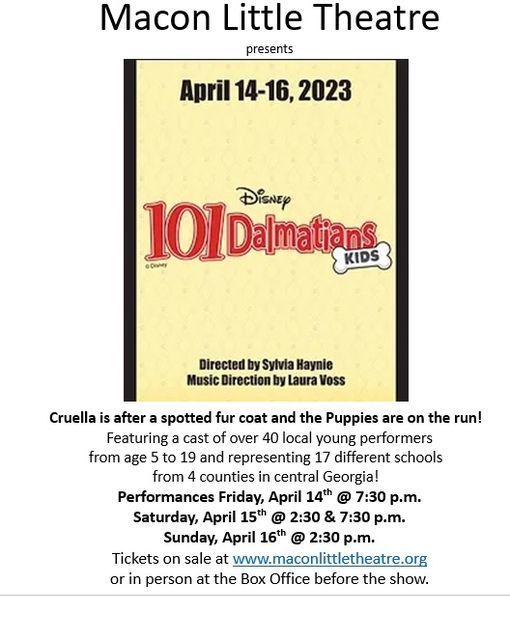 Mock Interview Volunteers Needed at Peach County High School. The Peach County High School Career, Technical, and Agricultural Education Department will hold a Mock Interview Day for seniors on April 19, 2023, and we need your help. We are currently looking for local businesses to assist with the mock interviews.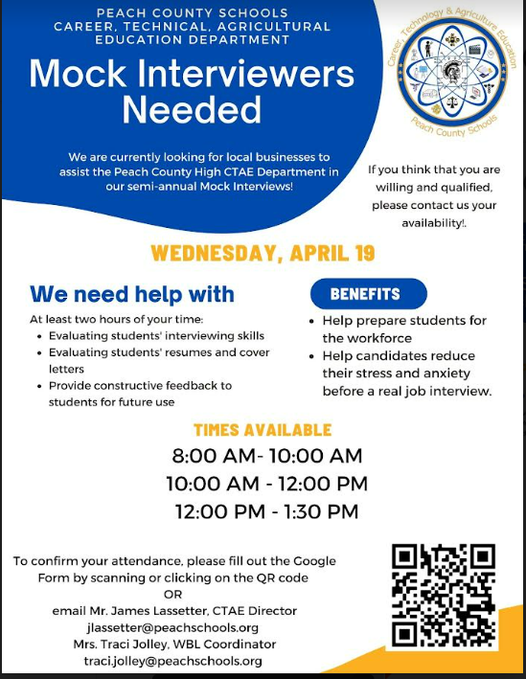 Peach County School District will be closed for Spring Break, April 3-7, 2023. Students will return on Monday, April 10, 2023. Have a safe and enjoyable Spring Break!